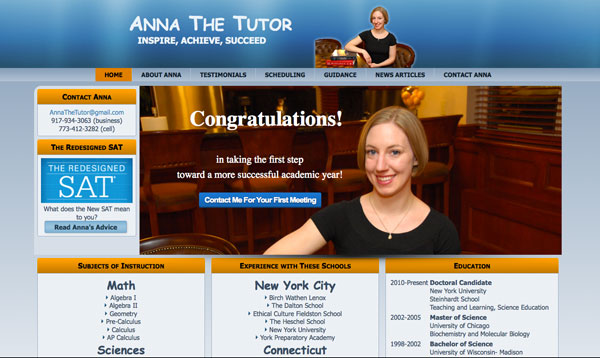 AnnaTheTutor.com is the website for a private tutor in the Connecticut and New York City area. This site displays Anna's contact information prominently, includes a picture showing her pleasant demeanor, and clearly lists her areas of expertise, schools with which she has experience, and formal educational background.
This website makes it easy for potential clients to become comfortable and confident in Anna's teaching ability and geniality. It also gives Anna a place to post relevant news articles and blog posts about current events.
Features of this Website
Responsive Template
User Submission
Visit AnnaTheTutor.com
This website might be one of the best sites for an independent tutor on the web. It displays a great combination of academic competency, responsive design for easy smartphone viewing, and relevant information. If you have or know a child that needs scholastic assistance, please see www.AnnaTheTutor.com.